Greetings friends, im here for some help with my ProxmoxVe installation.
I had my server DL360E G8, and this had a 4 NIC (1gb each) and i installed another PCI with 2x1GB.
Im trying to get more bandwith with LACP.
so my configuration is here
I already installed iperf to check bandwith transfer and here are the results.
In the switch side the configuration is this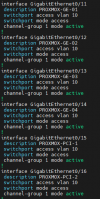 I made a manual test, removing each cable, and the connection persist, so the logical configuration is fine.
and the question is:
Why the bandwith is just 1GB?
How can get more?
Thanks for your help