Hello Everyone,
So I have two PVE nodes
I edited the hosts file on both machines so they look something like this:
IP1 stage-ve-01
IP2 stage-ve-testing
then I went to PVE1 and created my cluster then copied its information, after that I went to PVE2 to join it to the cluster.
After Joining everything seems ok but I lost access to PVE1. on The Web UI it appears to be online with the second node having a ? symbol.
On the second node both appear to be online but PVE1 is not working only the second one seems to be functioning.

I tried to log out then log back in but now it seems am locked out from both servers
but I still have ssh access to both servers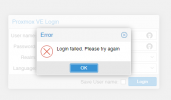 Any help on how to troubleshoot this will be appreciated.
Last edited: