Hi there,
Please help me identify the problem with our Proxmox is killing just one specific VM with OOM.
Background:
- The host has 16 CPUs, and 64 GB of RAM.
- We have 15 guests on the host.
- The VM that is being shut down uses the most resources, 7 CPUs and 16 GB RAM.
- The problem only started recently and is random.
- At the end of the post is the OOM message.
Where am I confused?
I don't understand from other posts on the forum which memory is running out. Is it the VM host or the VM guest? RAM or swap?
More information: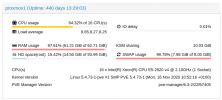 # cat /proc/sys/vm/swappiness 60
Code:
Mar 25 02:11:39 proxmox1 kernel: [38030728.043642] kvm invoked oom-killer: gfp_mask=0xcc0(GFP_KERNEL), order=0, oom_score_adj=0
Mar 25 02:11:39 proxmox1 kernel: [38030728.043646] CPU: 7 PID: 23619 Comm: kvm Tainted: P           O      5.4.73-1-pve #1
Mar 25 02:11:39 proxmox1 kernel: [38030728.043647] Hardware name: Supermicro Super Server/X10DRL-i, BIOS 3.2 11/19/2019
Mar 25 02:11:39 proxmox1 kernel: [38030728.043648] Call Trace:
Mar 25 02:11:39 proxmox1 kernel: [38030728.043657]  dump_stack+0x6d/0x9a
Mar 25 02:11:39 proxmox1 kernel: [38030728.043661]  dump_header+0x4f/0x1e1
Mar 25 02:11:39 proxmox1 kernel: [38030728.043664]  oom_kill_process.cold.33+0xb/0x10
Mar 25 02:11:39 proxmox1 kernel: [38030728.043666]  out_of_memory+0x1ad/0x490
Mar 25 02:11:39 proxmox1 kernel: [38030728.043671]  __alloc_pages_slowpath+0xd40/0xe30
Mar 25 02:11:39 proxmox1 kernel: [38030728.043675]  ? __switch_to_asm+0x34/0x70
Mar 25 02:11:39 proxmox1 kernel: [38030728.043678]  __alloc_pages_nodemask+0x2df/0x330
Mar 25 02:11:39 proxmox1 kernel: [38030728.043682]  alloc_pages_current+0x81/0xe0
Mar 25 02:11:39 proxmox1 kernel: [38030728.043685]  __get_free_pages+0x11/0x40
Mar 25 02:11:39 proxmox1 kernel: [38030728.043688]  __pollwait+0x94/0xd0
Mar 25 02:11:39 proxmox1 kernel: [38030728.043692]  eventfd_poll+0x32/0x70
Mar 25 02:11:39 proxmox1 kernel: [38030728.043694]  do_sys_poll+0x253/0x510
Mar 25 02:11:39 proxmox1 kernel: [38030728.043698]  ? poll_initwait+0x40/0x40
Mar 25 02:11:39 proxmox1 kernel: [38030728.043700]  ? poll_select_finish+0x210/0x210
...
Mar 25 02:11:39 proxmox1 kernel: [38030728.043716]  ? poll_select_finish+0x210/0x210
Mar 25 02:11:39 proxmox1 kernel: [38030728.043719]  __x64_sys_ppoll+0xad/0xf0
Mar 25 02:11:39 proxmox1 kernel: [38030728.043723]  do_syscall_64+0x57/0x190
Mar 25 02:11:39 proxmox1 kernel: [38030728.043726]  entry_SYSCALL_64_after_hwframe+0x44/0xa9
Mar 25 02:11:39 proxmox1 kernel: [38030728.043729] RIP: 0033:0x7f26db3ab916
Mar 25 02:11:39 proxmox1 kernel: [38030728.043731] Code: 7c 24 08 e8 5c 7e 01 00 41 b8 08 00 00 00 4c 8b 54 24 18 48 89 da 41 89 c1 48 8b 74 24 10 48 8b 7c 24 08 b8 0f 01 00 00 0f 05 <48> 3d 00 f0 ff ff 77 28 44 89 cf 89 44 24 08 e8 86 7e 01 00 8b 44
Mar 25 02:11:39 proxmox1 kernel: [38030728.043732] RSP: 002b:00007ffc0f54a550 EFLAGS: 00000293 ORIG_RAX: 000000000000010f
Mar 25 02:11:39 proxmox1 kernel: [38030728.043734] RAX: ffffffffffffffda RBX: 00007ffc0f54a570 RCX: 00007f26db3ab916
Mar 25 02:11:39 proxmox1 kernel: [38030728.043736] RDX: 00007ffc0f54a570 RSI: 000000000000004e RDI: 00007f26cdce5c00
Mar 25 02:11:39 proxmox1 kernel: [38030728.043737] RBP: 00007ffc0f54a5e0 R08: 0000000000000008 R09: 0000000000000000
Mar 25 02:11:39 proxmox1 kernel: [38030728.043738] R10: 0000000000000000 R11: 0000000000000293 R12: 00007f26ce3b4a00
Mar 25 02:11:39 proxmox1 kernel: [38030728.043739] R13: 00007f26ce3b4a00 R14: 00007ffc0f54a5dc R15: 0000000000000000
Mar 25 02:11:39 proxmox1 kernel: [38030728.043757] Mem-Info:
Mar 25 02:11:39 proxmox1 kernel: [38030728.043764] active_anon:13333827 inactive_anon:2329387 isolated_anon:0
Mar 25 02:11:39 proxmox1 kernel: [38030728.043764]  active_file:405 inactive_file:539 isolated_file:1
Mar 25 02:11:39 proxmox1 kernel: [38030728.043764]  unevictable:19055 dirty:0 writeback:3 unstable:0
Mar 25 02:11:39 proxmox1 kernel: [38030728.043764]  slab_reclaimable:80446 slab_unreclaimable:411196
Mar 25 02:11:39 proxmox1 kernel: [38030728.043764]  mapped:12018 shmem:21693 pagetables:44793 bounce:0
Mar 25 02:11:39 proxmox1 kernel: [38030728.043764]  free:83112 free_pcp:1526 free_cma:0
Mar 25 02:11:39 proxmox1 kernel: [38030728.043768] Node 0 active_anon:53335308kB inactive_anon:9317548kB active_file:1620kB inactive_file:2156kB unevictable:76220kB isolated(anon):0kB isolated(file):4kB mapped:48072kB dirty:0kB writeback:12kB shmem:86772kB shmem_thp: 0kB shmem_pmdmapped: 0kB anon_thp: 2682880kB writeback_tmp:0kB unstable:0kB all_unreclaimable? no
Mar 25 02:11:39 proxmox1 kernel: [38030728.043769] Node 0 DMA free:15888kB min:16kB low:28kB high:40kB active_anon:0kB inactive_anon:0kB active_file:0kB inactive_file:0kB unevictable:0kB writepending:0kB present:15972kB managed:15888kB mlocked:0kB kernel_stack:0kB pagetables:0kB bounce:0kB free_pcp:0kB local_pcp:0kB free_cma:0kB
Mar 25 02:11:39 proxmox1 kernel: [38030728.043774] lowmem_reserve[]: 0 1814 64146 64146 64146
Mar 25 02:11:39 proxmox1 kernel: [38030728.043777] Node 0 DMA32 free:251172kB min:1908kB low:3764kB high:5620kB active_anon:1344576kB inactive_anon:250824kB active_file:0kB inactive_file:312kB unevictable:24kB writepending:0kB present:1965312kB managed:1899776kB mlocked:24kB kernel_stack:32kB pagetables:1268kB bounce:0kB free_pcp:1360kB local_pcp:8kB free_cma:0kB
Mar 25 02:11:39 proxmox1 kernel: [38030728.043781] lowmem_reserve[]: 0 0 62331 62331 62331
Mar 25 02:11:39 proxmox1 kernel: [38030728.043785] Node 0 Normal free:65388kB min:65656kB low:129480kB high:193304kB active_anon:51990952kB inactive_anon:9066896kB active_file:1568kB inactive_file:1348kB unevictable:76196kB writepending:8kB present:65011712kB managed:63835828kB mlocked:76196kB kernel_stack:8496kB pagetables:177904kB bounce:0kB free_pcp:4756kB local_pcp:548kB free_cma:0kB
Mar 25 02:11:39 proxmox1 kernel: [38030728.043790] lowmem_reserve[]: 0 0 0 0 0
Mar 25 02:11:39 proxmox1 kernel: [38030728.043792] Node 0 DMA: 0*4kB 0*8kB 1*16kB (U) 0*32kB 2*64kB (U) 1*128kB (U) 1*256kB (U) 0*512kB 1*1024kB (U) 1*2048kB (M) 3*4096kB (M) = 15888kB
Mar 25 02:11:39 proxmox1 kernel: [38030728.043802] Node 0 DMA32: 6381*4kB (UMEH) 5594*8kB (UMEH) 2955*16kB (UMEH) 1052*32kB (UMEH) 445*64kB (UMH) 261*128kB (UH) 94*256kB (UMH) 20*512kB (UH) 4*1024kB (UH) 0*2048kB 0*4096kB = 251508kB
Mar 25 02:11:39 proxmox1 kernel: [38030728.043813] Node 0 Normal: 3*4kB (MH) 939*8kB (UMEH) 2718*16kB (UEH) 361*32kB (UEH) 5*64kB (H) 5*128kB (H) 3*256kB (H) 0*512kB 0*1024kB 0*2048kB 0*4096kB = 64292kB
Mar 25 02:11:39 proxmox1 kernel: [38030728.043824] Node 0 hugepages_total=0 hugepages_free=0 hugepages_surp=0 hugepages_size=1048576kB
Mar 25 02:11:39 proxmox1 kernel: [38030728.043825] Node 0 hugepages_total=0 hugepages_free=0 hugepages_surp=0 hugepages_size=2048kB
Mar 25 02:11:39 proxmox1 kernel: [38030728.043826] 82105 total pagecache pages
Mar 25 02:11:39 proxmox1 kernel: [38030728.043829] 56428 pages in swap cache
Mar 25 02:11:39 proxmox1 kernel: [38030728.043830] Swap cache stats: add 13680729, delete 13624293, find 675686965/679062801
Mar 25 02:11:39 proxmox1 kernel: [38030728.043831] Free swap  = 0kB
Mar 25 02:11:39 proxmox1 kernel: [38030728.043832] Total swap = 8388604kB
Mar 25 02:11:39 proxmox1 kernel: [38030728.043833] 16748249 pages RAM
Mar 25 02:11:39 proxmox1 kernel: [38030728.043833] 0 pages HighMem/MovableOnly
Mar 25 02:11:39 proxmox1 kernel: [38030728.043834] 310376 pages reserved
Mar 25 02:11:39 proxmox1 kernel: [38030728.043834] 0 pages cma reserved
Mar 25 02:11:39 proxmox1 kernel: [38030728.043835] 0 pages hwpoisoned
Mar 25 02:11:39 proxmox1 kernel: [38030728.043836] Tasks state (memory values in pages):
Mar 25 02:11:39 proxmox1 kernel: [38030728.043837] [  pid  ]   uid  tgid total_vm      rss pgtables_bytes swapents oom_score_adj name
Mar 25 02:11:39 proxmox1 kernel: [38030728.043846] [    549]     0   549    32193     5618   290816    16988             0 systemd-journal
Mar 25 02:11:39 proxmox1 kernel: [38030728.043849] [    557]     0   557    53185    18406   200704        0         -1000 dmeventd
Mar 25 02:11:39 proxmox1 kernel: [38030728.043852] [    569]     0   569     5718      625    65536      200         -1000 systemd-udevd
Mar 25 02:11:39 proxmox1 kernel: [38030728.043855] [    818]   106   818     1749      595    49152      100             0 rpcbind
Mar 25 02:11:39 proxmox1 kernel: [38030728.043857] [    821]   100   821    23270      805    81920      188             0 systemd-timesyn
Mar 25 02:11:39 proxmox1 kernel: [38030728.043859] [    849]     0   849   136554      518   118784       63             0 pve-lxc-syscall
Mar 25 02:11:39 proxmox1 kernel: [38030728.043861] [    851]     0   851    56455      635    81920       42             0 rsyslogd
Mar 25 02:11:39 proxmox1 kernel: [38030728.043863] [    855]     0   855    37717      350    65536       41             0 lxcfs
Mar 25 02:11:39 proxmox1 kernel: [38030728.043865] [    858]   104   858     2281      655    61440       58          -900 dbus-daemon
Mar 25 02:11:39 proxmox1 kernel: [38030728.043868] [    861]     0   861     4879      273    77824      181             0 systemd-logind
Mar 25 02:11:39 proxmox1 kernel: [38030728.043870] [    862]     0   862     3158      521    57344      313             0 smartd
Mar 25 02:11:39 proxmox1 kernel: [38030728.043872] [    867]     0   867    41689      560    81920      233             0 zed
Mar 25 02:11:39 proxmox1 kernel: [38030728.043874] [    872]     0   872      535      171    40960        5         -1000 watchdog-mux
Mar 25 02:11:39 proxmox1 kernel: [38030728.043877] [    882]     0   882     1682      367    53248       21             0 ksmtuned
Mar 25 02:11:39 proxmox1 kernel: [38030728.043879] [    886]     0   886     1022      369    49152        4             0 qmeventd
Mar 25 02:11:39 proxmox1 kernel: [38030728.043881] [    950]     0   950      954       93    40960        6             0 lxc-monitord
Mar 25 02:11:39 proxmox1 kernel: [38030728.043883] [    961]     0   961      568      170    45056       17             0 none
Mar 25 02:11:39 proxmox1 kernel: [38030728.043885] [    965]     0   965     1722       45    57344       15             0 iscsid
Mar 25 02:11:39 proxmox1 kernel: [38030728.043888] [    966]     0   966     1848     1253    57344        0           -17 iscsid
Mar 25 02:11:39 proxmox1 kernel: [38030728.043890] [    972]     0   972     3962      409    73728      181         -1000 sshd
Mar 25 02:11:39 proxmox1 kernel: [38030728.043892] [   1026]     0  1026   293786      306   241664      209             0 rrdcached
Mar 25 02:11:39 proxmox1 kernel: [38030728.043894] [   1056]     0  1056   379395     7306   483328      717             0 pmxcfs
...
Mar 25 02:11:39 proxmox1 kernel: [38030728.043919] [   1727]     0  1727     1403      318    45056       25             0 agetty
Mar 25 02:11:39 proxmox1 kernel: [38030728.043922] [  18413]     0 18413   727057   501394  5451776    31285             0 kvm
Mar 25 02:11:39 proxmox1 kernel: [38030728.043924] [  10483]     0 10483  1868484  1545292 14823424    39976             0 kvm
Mar 25 02:11:39 proxmox1 kernel: [38030728.043927] [  10783]     0 10783  1276146  1053046 10002432     8710             0 kvm
Mar 25 02:11:39 proxmox1 kernel: [38030728.043929] [   9880]     0  9880   758051   477820  5959680    54007             0 kvm
Mar 25 02:11:39 proxmox1 kernel: [38030728.043932] [  29805]   110 29805   291594     5899  2379776   278796             0 snmpd
Mar 25 02:11:39 proxmox1 kernel: [38030728.043934] [   9834]     0  9834  2321128  1890371 18239488   214415             0 kvm
...
Mar 25 02:11:39 proxmox1 kernel: [38030728.043957] [  12139]     0 12139  4458610  4188872 35303424    15771             0 kvm
Mar 25 02:11:39 proxmox1 kernel: [38030728.043959] [  25309]     0 25309    90380     4492   434176    25873             0 pvedaemon worke
Mar 25 02:11:39 proxmox1 kernel: [38030728.043961] [  25310]     0 25310    90381     4515   434176    25583             0 pvedaemon worke
Mar 25 02:11:39 proxmox1 kernel: [38030728.043963] [  29536]     0 29536    21543      125    69632        0             0 pvefw-logger
Mar 25 02:11:39 proxmox1 kernel: [38030728.043966] [  29548]    33 29548    91740    25826   446464     5686             0 pveproxy worker
...
Mar 25 02:11:39 proxmox1 kernel: [38030728.043970] [  29550]    33 29550    88668    24087   413696     6253             0 pveproxy worker
Mar 25 02:11:39 proxmox1 kernel: [38030728.043972] [  29551]    33 29551    17619     7438   167936     5168             0 spiceproxy work
Mar 25 02:11:39 proxmox1 kernel: [38030728.043974] [    664]     0   664    90408     5002   434176    25297             0 pvedaemon worke
Mar 25 02:11:39 proxmox1 kernel: [38030728.043977] [  19258]   107 19258    10958      718    81920        0             0 pickup
Mar 25 02:11:39 proxmox1 kernel: [38030728.043980] [  23225]     0 23225     1315       98    49152        0             0 sleep
Mar 25 02:11:39 proxmox1 kernel: [38030728.043982] [  23259]     0 23259     4176      701    73728        0             0 sshd
Mar 25 02:11:39 proxmox1 kernel: [38030728.043984] [  23260]   105 23260     3962      422    69632        0             0 sshd
Mar 25 02:11:39 proxmox1 kernel: [38030728.043986] [  23262]     0 23262     3962      464    73728        0             0 sshd
Mar 25 02:11:39 proxmox1 kernel: [38030728.043989] [  23264]     0 23264     5718      261    57344      196             0 systemd-udevd
Mar 25 02:11:39 proxmox1 kernel: [38030728.043991] [  23265]   105 23265     3962      591    73728        0             0 sshd
Mar 25 02:11:39 proxmox1 kernel: [38030728.043992] oom-kill:constraint=CONSTRAINT_NONE,nodemask=(null),cpuset=/,mems_allowed=0,global_oom,task_memcg=/qemu.slice/100.scope,task=kvm,pid=12139,uid=0
Mar 25 02:11:39 proxmox1 kernel: [38030728.044023] Out of memory: Killed process 12139 (kvm) total-vm:17834440kB, anon-rss:16753760kB, file-rss:1724kB, shmem-rss:4kB, UID:0 pgtables:34476kB oom_score_adj:0
Mar 25 02:11:40 proxmox1 kernel: [38030729.660594] oom_reaper: reaped process 12139 (kvm), now anon-rss:0kB, file-rss:60kB, shmem-rss:4kB
Mar 25 02:11:41 proxmox1 kernel: [38030729.726974] fwbr100i0: port 2(tap100i0) entered disabled state
Mar 25 02:11:41 proxmox1 kernel: [38030729.727154] fwbr100i0: port 2(tap100i0) entered disabled state
Mar 25 02:11:41 proxmox1 systemd[1]: 100.scope: Succeeded.
Mar 25 02:11:42 proxmox1 qmeventd[874]: Starting cleanup for 100
Mar 25 02:11:42 proxmox1 kernel: [38030730.874109] fwbr100i0: port 1(fwln100i0) entered disabled state
Mar 25 02:11:42 proxmox1 kernel: [38030730.874164] vmbr0: port 2(fwpr100p0) entered disabled state
Mar 25 02:11:42 proxmox1 kernel: [38030730.874417] device fwln100i0 left promiscuous mode
Mar 25 02:11:42 proxmox1 kernel: [38030730.874421] fwbr100i0: port 1(fwln100i0) entered disabled state
Mar 25 02:11:42 proxmox1 kernel: [38030730.894961] device fwpr100p0 left promiscuous mode
Mar 25 02:11:42 proxmox1 kernel: [38030730.894964] vmbr0: port 2(fwpr100p0) entered disabled state
Mar 25 02:11:42 proxmox1 qmeventd[874]: Finished cleanup for 100