Hi guy's
I new here and need some help.
I try to move over from my Unraid to Proxmox. I reduced my data array in unraid to a single disk and that I will now path through to the new unraid VM.
I managed to display it in unraid but the Name and Serial of the device is changed so I think it's not a real path through.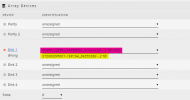 Thanks for helping me!
Best regards,
Stephan