I solved this, it was a Virus!
I was able to remove it with the help of this article.
Hello
I have proxmox installed on a server that has a AMD® Ryzen™ 5 3600 6c/12t @3.60GHz, 64 GB RAM and 2 x 480 GB NVME.
On it there is 1 Windows 2019 Server running, 1 Ubuntu server and a owncloud cluster. Those VMs I restored from a backup of an old server. I dont have access to that server anymore.
Now what I am trying to solve is this:
kswapd0 keeps using all CPU power of the whole server, I taskkilled it multiple times but it keeps coming back the other day or after 5-6 Hours.
I tried to reinstall the ballooning service on the windows server 2 times and now completely disabled the service and rebooted the server.
But it still does showing too much ram on the web GUI: (yes I did the setup of the ballooning correctly)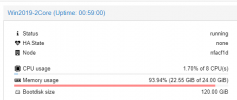 I think that the kswapd0 issue comes from this. I am not 100% sure because I should have disabled it.
Is there a way to restart the memory ballooning on the proxmox server?
What can I do to solve this? The other linux servers are running with no problems.
Last edited: