Hey guys!
New to proxmox so sorry if I'm not clear on some terms... and also thanks for all the great posts and insights here so far it has been great reading lots of past posts!
To my issues and questions. Thanks in advance for any guidance
Backstory
I Recently upgraded a single node of ProxmoxVE via the Gui. During the upgrade it seems like everything was ok and it prompted me to select a new kernel, proxmox did its thing and Once the upgrade was complete I lost access to the GUI, no access via ssh etc...
Oddly enough when I rebooted the server, and watched via the idrac console I noticed that it was now going through a cloud-init process and when that completes it prompts me to login to a VM I had running in proxmox instead of the normal proxmox root install login.
I do see a specific error
Failed to start Import ZFS pool pool\x2d1
and have been looing into this trying to see if its related.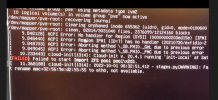 Secondary errors are as follows.
Trouble shooting
I have tried a few things:
booting again from any other kernel versions that are available in recovery mode.
tried removing drives
Kind of at a loss of what I should do. I feel like some how I corrupted the boot files..
Has anyone seen or experienced this issue? Would love to fix the existing server with out reinstalling and configuring proxmox again.
Thanks again!