I have upgraded one of my servers from PVE 6.4 to 7; i tried the same procedure on other servers before doing it online and i had no problems but now i cannot access the PVE server (GUI, SSH or ping) but i can still reach all the VMs.
I can still have access to the machine by scheduling a KVM access but i cannot mantain it so i have to work fast on it.
To be clear ALL the VM do work and are reachable via internet; only the PVE host is unreachable and cannot connect to the internet (ping does not work).
The PVE host is connected via a single ethernet card (enp35s0, i checked, the name did not change) and it has a dedicated ip just for the PVE (it uses the default ip, the VM are MAC binded)
i checked the configuratio and everything seems in order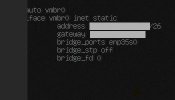 I tried adding hwaddress with the MAC taken from ip -c link but it did not help, i even tried with a different MAC address;
I already tried to restart network or reboot without avail.
Please do note that i have limited and scheduled time on the machine, i must plan ahead of time.
I don't know what may be the cause
NOTE: i do not have ifupdown2 installed and i cannot install/update any packages as there is no connection to the machine
Thanks in advance to anyone that tries to help me.