Hi,
for some months I have a problem, on several clusters.
Proxmox 7.1.10 enterprise repositories, running kernel (now) Linux 5.13.19-5-pve #1 SMP PVE 5.13.19-13 (Tue, 08 Mar 2022 07:32:25 +0100)
When I reboot a WIndows VM (usually during updates) it does not always (it is not predictable) starts correctly, it remains in this screen indefinitely.

Beware that the VM is not locked, the Windows circular indicator rotates indefinitely.
Setting up this Windows 10 VM is very simple: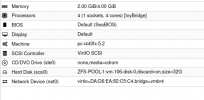 I use virtio drivers release 0.1.215
Any idea ?
Very thanks
Luca
Last edited: