Hi,
I'm new to Proxmox, I currently have Hyper-V on a server and I want to migrate to Proxmox.
My configuration is:
3 x Tiny Lenovo i5 8 series
Every tiny with 16Gb ram
1 SSD install the PVE
1 NVME 1TB (planned CEPH)
3 x LAN USB 2.5Gb
Switch Zyxel Multigibagit L2
Add to ISCSI 1TB (QNAP)
I installed PVE all OK
My config LAN is
1GB Nic for Admin PVE
2.5GB Nic USB for VM/CT and CLUSTER/CEPH
Well
Create a CEPH, and add a OSD ( 3 NVME every Tiny)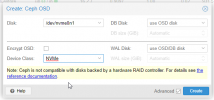 Appear errors in CEPH
More...
Create CEPH Pool with this default values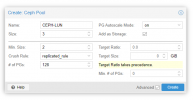 Is All Correct?
thx