Hello,
I finally decided to try the SDN functionality.
I managed to deploy my vnet with its VxLAN zone.
On the other hand, I have an error after the deployment, even if everything seems to work.
The problem also occurs when I apply a modification in the network part after adding a bridge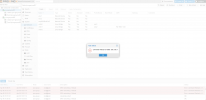 I have reinstalled the servers several times, but still have the same problem.
Anyone have a solution?
Thank.