Hi, I use for some test a notebook with a 2c4t 3rd gen intel cpu, 8GB Ram, 500GB HDD partitioned as installer default. Not fast at all!
As an example, if I clone a template with a 34GB disk( ~2min clone time) and then I quickly resize it to 50GB via the GUI I get a error 500.
This happens only if the disk is
raw
on the
local
dir based storage. Proxmox file system is ext4.
Qcow disk seems not affected.
Network based storage not tried but I bet it could be the same on slow "sync transaction" based protocol?
Error 500

Error 596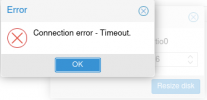 Waiting a not well defined number of seconds(30 on my system) before resizing does not give any problem.
This is a problem particulary using API because VM is not locked and we should be able to resize the disk without waiting mode.
Yes it could be implemented a retry mechanism on client side but I think that this could be fixed or handled proxmox side maybe?
proxmox-ve: 7.1-1 (running kernel: 5.13.19-1-pve)
pve-manager: 7.1-5 (running version: 7.1-5/6fe299a0)
pve-kernel-5.13: 7.1-4
pve-kernel-helper: 7.1-4
pve-kernel-5.11: 7.0-10
pve-kernel-5.13.19-1-pve: 5.13.19-2
pve-kernel-5.11.22-7-pve: 5.11.22-12
pve-kernel-5.11.22-4-pve: 5.11.22-9
ceph-fuse: 15.2.14-pve1
corosync: 3.1.5-pve2
criu: 3.15-1+pve-1
glusterfs-client: 9.2-1
ifupdown2: 3.1.0-1+pmx3
ksm-control-daemon: 1.4-1
libjs-extjs: 7.0.0-1
libknet1: 1.22-pve2
libproxmox-acme-perl: 1.4.0
libproxmox-backup-qemu0: 1.2.0-1
libpve-access-control: 7.1-2
libpve-apiclient-perl: 3.2-1
libpve-common-perl: 7.0-14
libpve-guest-common-perl: 4.0-3
libpve-http-server-perl: 4.0-3
libpve-storage-perl: 7.0-15
libspice-server1: 0.14.3-2.1
lvm2: 2.03.11-2.1
lxc-pve: 4.0.9-4
lxcfs: 4.0.8-pve2
novnc-pve: 1.2.0-3
proxmox-backup-client: 2.0.14-1
proxmox-backup-file-restore: 2.0.14-1
proxmox-mini-journalreader: 1.2-1
proxmox-widget-toolkit: 3.4-2
pve-cluster: 7.1-2
pve-container: 4.1-2
pve-docs: 7.1-2
pve-edk2-firmware: 3.20210831-2
pve-firewall: 4.2-5
pve-firmware: 3.3-3
pve-ha-manager: 3.3-1
pve-i18n: 2.6-1
pve-qemu-kvm: 6.1.0-2
pve-xtermjs: 4.12.0-1
qemu-server: 7.1-3
smartmontools: 7.2-1
spiceterm: 3.2-2
swtpm: 0.7.0~rc1+2
vncterm: 1.7-1
zfsutils-linux: 2.1.1-pve3