I updated Proxmox on a node last night and since a new kernel installed, I restarted the node. The VM and LXC's came up seemingly properly, but this morning users were complianing that the machines aren't reachable over a network. (2 Windows 10 machines, KVM guest).
On further investigation, it seemed that networking was disfunctional on the win 10 machines. A new network card was detected?! Further investigation reveals this: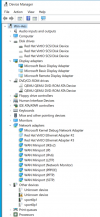 Most fo the virtual hardware has been replaced with a new device! This happened on both the win 10 guests.
Surely this is not supposed to happen? Imaging having a few hundred windows machines in a large setup and having to fix them all one by one!