Hi all,
I upgraded some days ago to Proxmox 6.3.
Unfortunately, since the upgrade I experience high io-delay percentages reported by Proxmox. The weird thing is, the io-delay just stays once it hit a number >=5% no matter any vm/container is shutdown and all services are 'finished'. Please find a screenshot below.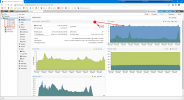 As you can see all vm's are down, no background jobs are running. When I shut den machine down, everything is as it should be until an io-delay hits the percentage from above. I tested io-behavior and the numbers provided in the 'Summary' don't seem to be true. Maybe it's a bug in the web interface?!
Regards and Happy New Year 2021.
Regards
Mike