Hello all,
I just updated from 6.4 to 7. Everything went smooth, but....
I have an issue booting VMs (CTs are doing fine) as long as any of the assigned disks is on ZFS.
It doesn't matter whether the VM tries to boot from CD or the disk. as soon as there is a disk configured based on ZFS, the VM hangs at this point: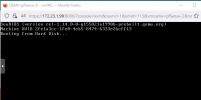 When I move the disk to qcow2, the VM boots fine.
I really appreciate, if someone can put me in the right direction for further troubleshooting.
Cheers,
luphi