I am trying to setup Sophos and I am having some problem with the WAN.
The LAN come in my server in a port and I am trying to use the second port as a WAN to go out in my switch.
Sophos says my port2 is active but the status is RED.
In the network menu I have my Port1 setup on LAN Static ip and on Port2 WAN DHCP. The Port2 doesnt seems to be able to get an IP it says N/A.
Here is my setup in Proxmox:

In my Proxmox Sophos VM: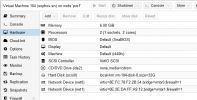 Last edited: