Hi, i followed this guide, successfully added proxmox to monitor my host machine temperature.
https://blog.csdn.net/xiaobo060/article/details/105930003
do you think this can be implemented to proxmox officially? otherwise i need to manually add it again each time proxmox updated the related files.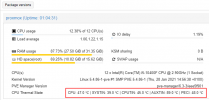 i fully aware that using this method the user should know about how to find a proper sensors name that one need to be displayed on the webpage, it required user interaction, users need to find out the proper id name show in lm-sensors and i understood every CPU and MOBO may have all different naming.
can proxmox put this pre-built with user possibility to enter the variable by themself, so that the value of the temperature can be shown?