Not sure why but my original post just disappeared...let's try this again...
I have two Proxmox hosts in two separate clusters that with similar issues, though one is for sure having a rougher time than the other one as it hard freezes a lot more often. Both are running different hardware (brands of servers and models of CPUs, RAM, etc)
Below is the biggest problem child: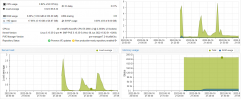 As you can see there are more than enough resources and at most I've only had a handful of VMs on here (maybe 3-5 at a time) given the issues. Sometimes it works fine for days other times it crashes multiple times a day. I say crash, but I should say hard freeze. It is accessible via IPMI/iKVM/iDRAC so at least I can reset it remotely. What's odd is memtest comes back clean and no issues. These used to run Hyper-V and never had issues and ran for months at a time without incident. Logs don't seem to show anything since the server just hard freezes. Any thoughts?