Hi guy
After destroying the osds, it doesn't allow me to rejoin them because it tells me that it is a member of an LVM group. but neither lvscan, nor vgscan nor ceph lvm ls shows said membership.
The OSD Add buton doesn´t display the disk to add.

This show the membership.
but, this tells me that's wrong.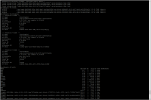 I don't know how to continue, can you give me a hand?